Image: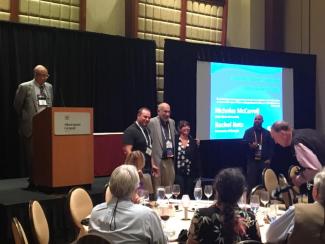 UGA Geology's Rachel Rotz, PhD Candidate in the Water Resources and Remote Sensing Laboratory, received the Farouk El-Baz award in Phoenix, Arizona on September 23, 2019 at the 2019 Geological Society of America Annual Meeting for her research on the interaction of fluvial-aeolian processes in the Simpson Desert of central Australia. Rachel conducted fieldwork with advisor, Dr. Adam Milewski, UGA alumni and scientist within the National Space and Air Museum Dr. Bob Craddock, and postdoctoral researcher Dr. Alex Morgan. The award is given annually to support student field research on arid landforms anywhere in the world. Dr. Farouk El-Baz, Research Professor and Director of the Center for Remote Sensing at Boston University, contributed the initial endowment for the award.
According to the GSA website, The Farouk El-Baz Student Desert Research Award was created after The Farouk El-Baz Desert Research Award, which was established in 1999 by the GSA Foundation as a Division award administered entirely by Quaternary Geology and Geomorphology. For the purposes of the professional researcher award, the term "desert" is restricted to warm deserts rather than polar deserts. "The award is intended to encourage young scientists to strive for excellence in desert research," said Dr. El-Baz, "Desert landforms have not received as much attention by geologists as other types of landforms," he added " we need to encourage and reward arid land studies." Any scientist may be nominated for this award, and applicants need not be geologists or U.S. citizens.
Congratulations, Rachel!