Image: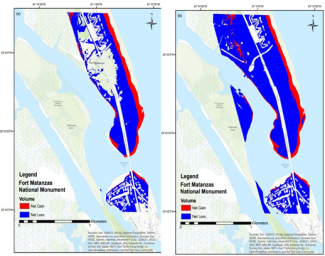 Journal of Geographical Research: "The Use of Airborne LiDAR in Assessing Coastal Erosion in the Southeastern USA"
Authors:
David F. Richards IV and Adam M. Milewski
(Water Resources & Remote Sensing Lab (WRRS), Department of Geology, University of Georgia, Athens, GA 20602, USA)
 
Brian Gregory
(Southeast Coast Inventory & Monitoring Network (SECN), Main Office, Southeast Coast Network, Athens, GA 30605, USA)
Abstract
Changes in sea level along the coastal southeastern United States (U.S.) influence the dynamic coastal response. In particular, the Southeast Coastal Network (SECN) of the National Park Service (NPS) has exhibited evidence of fluctuations in sea level which caused coastal erosion. Airborne LiDAR acquired from NOAA for Fort Matanzas National Monument, Fort Pulaski National Monument, Charles Pinckney National Historic Site, and Cape Lookout National Seashore were analyzed to identify changes in both elevation and the spatial volume of unconsolidated sedimentary material in the coastal southeast over time. Areas that exhibited an increase (deposited material) or decrease (eroded material) in elevation were mapped across the study area from 2006 to 2018. Results indicate a quasi-cyclic process where unconsolidated sediment distribution and the morphodynamic equilibrium changes with time. The coastal zones are steadily oscillating between the process of erosion and deposition affecting the coastal geomorphological dynamic. The use of LiDAR for evaluating coastal sustainability and resiliency due to this environmental phenomenon is clear.
Keywords
Coastal; Erosion; LiDAR; Elevation; Volumetric change; Geomorphology; Sea level