Image: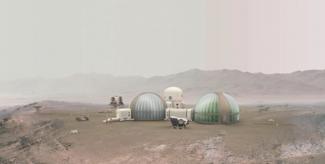 Source: UGA TODAY
By Alan Flurry, Campus News
Humankind's next giant step may be onto Mars.
But before those missions can begin, scientists need to make scores of breakthrough advances, including learning how to grow crops on the red planet. Practically speaking, astronauts cannot haul an endless supply of topsoil through space. So University of Georgia geologists are figuring out how best to use the materials already on the planet's surface.
Continue reading online at UGA TODAY - Science & Technology
Image - A rendering of a house beside a greenhouse on Mars. (Courtesy of NASA)