Image: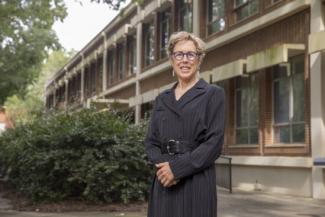 Source: UGA TODAY
By Alan Flurry, Campus News
Sally Walker, paleontology expert and mentor to UGA students, has been selected as the first Shellebarger Professor in Geology in the Franklin College of Arts and Sciences.
A professor of geology with a co-appointment in marine sciences, Walker is principal investigator on a National Science Foundation grant for collaborative research on the Antarctic Scallop as a key to paleoenvironments and sea ice conditions. A Fellow of the American Association for the Advancement of Science, she was one of two women chosen nationally for the Society for Sedimentary Geology first Field Experiences Program in Argentina, working with South American graduate students and professors in the Neuquén Basin, Northern Patagonia.
Walker's research focus is on fossil forensics—how organisms become fossilized, which includes the study of physical, biological and chemical factors that affect the preservation of calcium carbonate shells.
"I like to say I read shells for a living. By looking at a shell, I can tell you where in the world it originated, what environment it lived in, how it lived, how it died, its fossilization condition and how it was curated after discovery," Walker said. "Shells are among the greatest novels on Earth."
Continue reading online at UGA TODAY - Campus News