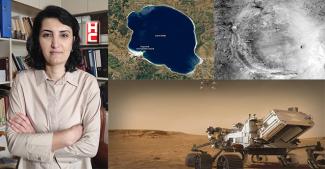 Dr. Nurgul Balci
Istanbul Technical University (ITU)
Geology Colloquium - Live via Zoom
This is a hybrid event, if you are unable to join us in person please join via zoom. 

Meeting ID: 997 2477 2096

Note: A password is required to join this meeting. Please call the Geology office (706-542-2652) and speak with a representative to obtain the code. Alternatively, a code request can be made to UGA Geology.
About the Speaker:
Dr. Nurgul Balci is a professor of geomicrobiology at the Istanbul Technical University (ITU), Turkey. She obtained a Ph.D. degree from ITU and Colorado School of Mines, USA. She was a postdoctoral researcher at the University of California, Department of Earth Sciences, Riverside, CA (NASA Exobiology Program) and the University of Missouri, Biochemistry Department (Life Science Fellowship) between 2005–2007. She was a visiting scientist at the Max Planck Institute for Marine Microbiology in Bremen, Germany. Dr. Balci's research focuses on understanding microbe-mineral interactions in various modern and recent geological environments to interpret chemical, mineral, and morphological traces of microbial processes preserved in geological records. The current research in her lab combines geochemistry (stable isotopes), mineralogy, microbiology and materials science to elucidate microbially driven processes in diverse modern geochemical settings, particularly in extreme environments, to interpret the limits of life.
In her presentation she will discucss: 'What is the meaning of Lake Salda's microbialites? Are they biosignature repositories for Jezero Crater (Mars)?' – Professor Balci will present a review of biological processes that regulate and contribute to microbialite formation in modern lacustrine carbonate settings and explain the key findings from Lake Salda (southwestern Turkey) microbialites and discuss what offer and/or not offer for possible lacustrine carbonates on Mars (Jezero Crater).
Host: Paul Schroeder