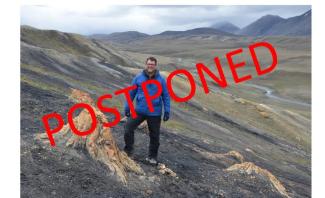 Dr. Kirk Johnson
Sant Director, Smithsonian's National
Museium of Natural History
Geology Colloquium - GG Building 200A or via Zoom
This event has been postponed... new date and time TBD.
This is a hybrid event, if you are unable to join us in person please join via zoom. 

Meeting ID: 997 2477 2096

Note: A password is required to join this meeting. Please call the Geology office (706-542-2652) and speak with a representative to obtain the code. Alternatively, a code request can be made to UGA Geology.
Abstract:
With little more than picks and shovels, paleontologists can access ancient organisms, ecosystems, and biomes. This "time travel with a shovel" is a surprising effective tool to document and visualize ancient worlds. Forests first appeared on Earth around 380 million years ago and since then their distribution has responded to changing climates and continental configurations. The distribution of extant biomes is controlled by a steep latitudinal temperature gradient that ranges from frigid poles to a hot equatorial zone. One of the most surprising aspects of Earth history is the fact that the polar regions, which are the realm of ice and tundra today, have been extensively forested in the past. As today's climate warms, past polar ecosystems are becoming increasingly relevant as indicators of future conditions.
About the speaker:
Kirk Johnson
Sant Director, Smithsonian's National Museum of Natural History
Kirk Johnson is the director of the National Museum of Natural History where he oversees a collection of more than 146 million objects—the largest natural history collection in the world. Each year, the Museum hosts more than 5 million visitors and its scientists publish more than 750 research articles. In 2019, the Museum opened the David H. Koch Hall of Fossils—Deep Time, a 31,000 square foot exhibition about the history and future of life on Earth. Before he came to the Smithsonian in 2012, Johnson was the vice president and chief curator at the Denver Museum of Nature & Science where he led expeditions in 11 countries. As a scientist, his research focuses on fossil plants and the extinction of the dinosaurs and he is also known for his popular books, museum exhibitions, documentaries, and collaborations with artists. In 2011, he led the excavation of an ice age site near Snowmass Village, Colorado, that recovered more than 5,400 bones of mammoths, mastodons and other ice age animals and was featured in the NOVA documentary, Ice Age Death Trap (2012). His recent PBS documentaries include Making North America (2015), The Great Yellowstone Thaw (2017), and Polar Extremes (2019). His recent books include, Cruisin' the Fossil Coastline: The Travels of an Artist and a Scientist along the Shores of the Prehistoric Pacific (2018) and Visions of Lost Worlds, the Paleoart of Jay Matternes (2019).
Host: Paul Schroeder