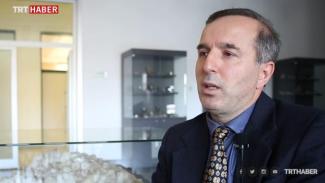 Emin Ciftci
Department of Geological Engineering
Istanbul Technical University (ITU)
Geology Colloquium - Live via Zoom
This is a hybrid event, if you are unable to join us in person please join via zoom. 

Meeting ID: 997 2477 2096

Note: A password is required to join this meeting. Please call the Geology office (706-542-2652) and speak with a representative to obtain the code. Alternatively, a code request can be made to UGA Geology.
About the Speaker:
Dr. Emin Ciftci is a Professor and Head of the Department of Geological Engineering at Istanbul Technical University. He has 78 publications on the subjects of economic geology, ore mineralogy, geochemistry, and ore microscopy. He is the secretary for the upcoming International Clay Conference (icc.aipea.org) and received degrees in Geology from Karadeniz University and his Ph.D. in Geology and ceramics from University of Missouri - Rolla. 
Host: Paul Schroeder