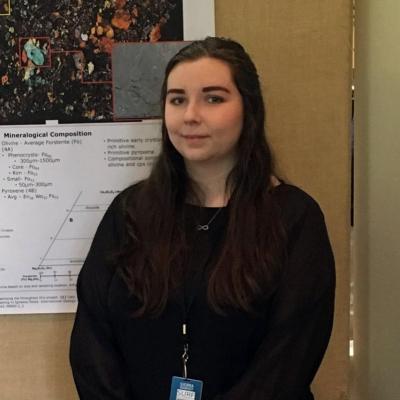 M.S. Student
Graduate Lab Assistant
Contact Info
Office Hours:
By Appointment
My research interests include petrology, geochemistry, and planetary geology. Currently, I am applying these interests to discriminate the source lithology of olivine-phyric shergottites.
Education:
M.S. Geology
University of Georgia
In Progress
B.S. Honors, Geology
Minor: Chemistry
Western Carolina University; Cullowhee, NC.
2014 - 2018
Thesis: The Role of Weathered and Unweathered Bedrock Chemical Composition and Mineralogy in Producing Varying Streamwater Chemistries in a Headwater Catchment in Western North Carolina
(Faculty Advisor: J.P. Gannon)
Research

Research Interests:

Martian Petrology and Geochemistry
Selected Publications

Selected Publications:

Fagan, A.L.; Gross, J.; Ramsey, S.; Turrin, B. (2018). Northwest Africa 8632- Recording Young Lunar Volcanism. In Lunar and Planetary Science Conference. Abstract no. 2584.