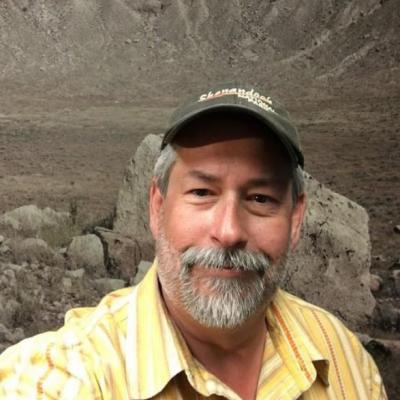 Director, Center for Applied Isotope Studies
Contact Info
Office Hours:
Bt Appointment
Education:
Ph.D. Archaeology, University of Barcelona 2013
M.A., Anthropology, University of Missouri, Columbia 2002
B.A., Anthropology, Northern Arizona University 1996
A.A., Anthropology, Cochise College 1995
Research

Research Interests:

Radiocarbon dating; isotope and trace-element geochemistry; archaeological science; environmental studies (heavy metals/industrial pollution and global and prehistoric climate change); terminal Pleistocene archaeology; prehistory of the Northern Plains, American Southwest, Alaska, and Northeast Asia; contact and acculturation, scientific method; quantitative research methods; and development of new analytical technologies, especially portable instrumentation.
Selected Publications

Selected Publications:

Barrett, C.A., W. Chouyyok, R.J. Speakman, K.B. Olsen, and R.S. Addleman (2017). Rapid Extraction and Assay of Uranium from Environmental Surface Samples. Talanta 173:96–78.
Brink, J.W., C. Barron-Ortiz, K.M. Loftis, and R.J. Speakman (2017). Pleistocene Horse and Possible Human Association in Central Alberta, 12,700 Years Ago. Canadian Journal of Archaeology In Press.
Cooper, H.K, O.K. Mason, V. Mair, J.F. Hoffecker, and R.J. Speakman, 2016. Evidence of Eurasian Metal Alloys on the Alaskan Coast in Prehistory. Journal of Archaeological Science 74:176–183.
Farris, D.W., C. Jaramillo, G. Bayona, S.A. Restrepo, C. Montes, A. Cardona, A. Mora, R.J. Speakman, M.D. Glascock, P. Reiners and V. Valencia, 2011. Fracturing of the Panamanian Isthmus during initial collision with South America. Geology 39:1007–1010.
Hunt, A.M.W., and R.J. Speakman, 2015. Portable XRF Analysis of Archaeological Sediments and Ceramics. Journal of Archaeological Science 53:626–638.
Moini, M., A. O'Halloran, A.M. Peters, C.A.M. France, E.P. Vicenzi, T.G. DeWitt, E. Langan, T. Walsh, and R.J. Speakman (2014). Understanding Irregular Shell Formation of Nautilus in Aquaria: Chemical Composition and Structural Analysis. Zoo Biology 33:285–294.
Purdy, B.A., K.S. Jones, J.J. Mecholsky, G. Bourne, R.C. Hulbert, B.J. MacFadden, K.L. Church, M.W. Warren, T.F. Jorstad, D.J. Stanford, M.J. Wachowiak and R.J. Speakman, 2011. Earliest art in the Americas: Incised image of a Proboscidean on a mineralized extinct animal bone from Vero Beach, Florida. Journal of Archaeological Science 38. 2908–2913.
Speakman, R.J., C.S. Hadden, M.H. Colvin, J. Cramb, K.C. Jones, T.W. Jones, C.L. Kling, I. Lulewicz, K.G. Napora, K.L. Reinberger, B.T. Ritchison, M.J. Rivera-Araya, A.K. Smith, V.D. Thompson (2017). Choosing a Path to the Ancient World in a Modern Market: The Reality of Faculty Jobs in Archaeology. American Antiquity. In Press.
Speakman, R.J. and M.S. Shackley, 2013. Silo science and portable XRF in archaeology: A response to Frahm. Journal of Archaeological Science 40:1435–1443.
Speakman, R.J., N.C. Little, D. Creel, M.R. Miller and J.G. Iñañez, 2011. Sourcing ceramics with portable XRF spectrometers? A Comparison with INAA using Mimbres pottery from the American Southwest. Journal of Archaeological Science 38:3483–3496. 
Williams, V.I., C.M. Santoro, R.J. Speakman, M.D. Glascock, A.L. Romero Guevara, D. Valenzuela, V.G Standen, T.N. D`Altroy (2016). Instrumental Neutron Activation Analysis of Inka and Local Pottery from Northern Chile's Atacama Desert and Late Prehistoric Interregional Interaction in the Southern Andes. Journal of Archaeological Science: Reports 9:481–492.