Comments from the Head:
Greetings from a busy geology department! This fall 2017 semester we've had quite a number of students and faculty attend the National GSA meeting in Seattle, WA. Take a visit to our Facebook page where you can see 15 talks/posters presented about a variety of topics such as minerals on Mars, faulting on Mercury, and the many geologic aspects of Earth.  We also had UGA geology alumni attending GSA presenting their continued interest in the geosciences.  The annual American Geophysical Union in New Orleans in December will also marquee our students, faculty, and alumni research activities.
We are excitedly awaiting the arrival of new Assistant Professor Geoff Howarth. Amongst many things, Geoff will be working with Mike Roden to transition the teaching of GEOL4020 Internal Processes (Ig-Met-Pet for you old schoolers) this spring 2018.  Other good news is that we are actively searching to fill a new position in Geohydrology to augment our strong program in critical zone (CZ) science. For those not familiar with this integrative approach, CZ science is the study of the Earth's surface by linking biological and geological processes at the watershed to global scale (from the tree tops to the deep bedrock) on second to million year time scales. Geologists, geophysicists, hydrologist, soil scientists, ecologists, anthropologists, atmospheric, and social scientists are working together to develop an understanding of landscape evolution. The focus of these studies is to address issues of sustained water quality, agricultural fertility, knowledge of carbon cycling, and renewable and non-renewable resources. Key aspects needed to fully understand these systems is knowledge of 1) regional climate, 2) parent rock compositions, 3) topography, 4) biota, and 5) the time frame over which theses forces work.
John Dowd is now officially emeritus and showing absolutely no signs of slowing down his research. We are repurposing the hydrothermal lab to be a monitoring facility for the study of Tanyard Creek, which as you may know flows from west campus, under Sanford Stadium, and into the Oconee River. A real time sensor network is under development so the public can monitor the "health" of the stream with metrics of discharge, temperature, electric conductivity, and dissolved oxygen.
My two PhD students, Laura Fackrell and Peter Steiner, are developing their respective interests in critical zone science. Laura spent the past summer at NASA's APL working on mineral mapping of sulfates on Mars. Her research is now to develop Mars soil simulants, grow plants, and examine the biogeochemical response to the different mineral assemblages known to form different periods of Mars' geologic history. Peter is developing interest in organo-clay mineral interactions in the critical zone. Jay Austin and I are still closely collaborating at the Calhoun Critical Zone observatory. In particular we are developing quantitative mineralogy and elemental approaches to track rates of landscape evolution, with a focus on the role of vegetative management. We are looking at differences due to pasture tilling versus pine forest harvesting versus old growth hardwood. As you might guess, the clay mineral assemblages are variable and they play an important role in nutrient availability and related carbon cycling.
Professor Koray Yilmaz from Middle East Technical University (METU), Ankara, Turkey was in residence here in geology courtesy of the Franklin International Scholar Program. Along with Adam Milewksi, we drafted a manuscript that encapsulated several years of collaborative research on the geohydrology of Lake Iznik, Turkey. The ERASMUS+ geology student exchange program between UGA and METU is officially in place. Unfortunately, US-Turkish political tensions are limiting implementation. However, we remain optimistic that the situation will ease in the near future and allow for wonderful chances to study this geological and cultural rich region of the world.
Finally, please mark March 2, 2018 on your calendar. We are planning a geology alumni event with a tribute to the career of Professor Bob Carpenter. This date is a Friday and talks will be presented at 3:30 p.m. in 200A of the G&G building. Other activities will occur, such a tours and social events. Details to follow.
Cheers,
Paul Schroeder
Faculty Updates
Doug Crowe
I've stepped down as department head after 5 years, and I'm truly grateful for all of my dedicated and willing-to-go-the-extra mile colleagues in this department.  We remain a hard-working, diverse group of faculty with great students, and as our department undergoes significant changes in the next 5-10 years (when all of us old folk retire), I am confident that we'll see an influx of wonderful new people who will push us forward within the earth sciences.
While I was head I did manage a bit of research, most notably the MS work of Hudson Farren at the Haile mine in South Carolina.  Haile is a historic gold mine that has now started large scale production, with the result that they are under pressure to find additional gold to extend the life of the mine.  As the bulk of the Carolina Slate Belt is covered in a thick rind of saprolite, and given the minimal geophysical signatures associated with this type of mineralization, exploring for these additional ounces of gold is a challenge.  Hudson spent long hours looking as hundreds of saprolite drill holes, carefully evaluating the trace element chemistry, in order to develop a near-surface signature that can be used as a tool to peer through the saprolite and evaluate what is at depth.  OceanaGold is very pleased with the results, and will use Hudson's approach as they move forward exploring.  I'm looking to extend Hudson's work with yet more graduate student projects.
Field School continues to be a great opportunity for our students to learn first-hand how a geologist works in the field, and in the past 6 years we've had enormous enrollments, topping out at 52 two summers ago.  These huge numbers reflect the tsunami of undergrad students who have come to our department as geology majors, reflecting larger trends nationally/internationally in hiring in the earth sciences.  We've had to really rethink how we do the program, gone are the days where Mike and I would take 12 students out west for a bucolic 6 weeks of learning!  Between Mike and I we have something like 55 years of field schools, and if we add Chris Fleisher in, that number goes up to 87 years!
I'd love to hear from any and all of our alums, drop me a line or give a shout anytime!
Sue Goldstein
This past year has been busy and rewarding.  I traveled to Israel last September (2016) for a conference on living foraminifera held at the marine station in Eilat (coast of the Gulf of Aqaba).  I gave an invited talk, did a workshop on monothalamid foraminifera, and got to do a little diving in the Gulf. Field trips took us to the oldest known copper mine, the Dead Sea, Jerusalem, a nice winery, and a couple of archaeological sites.  I returned to Athens just in time to repack and head to Antarctica with Sam Bowser's group.  Traveling from the deserts of Israel to the frigid icy landscapes of McMurdo and New Harbor was a bit of a jolt to my system, but the Antarctic foraminifera are unique and a pleasure to work with. I took quite a lot of photos on both trips! This past May, I spent about a week on Sapelo with Sam Bowser, Laura Katz and her group of students from Smith College.  A number of Sapelo forams are being sequenced as a result! Chris Smith, a grad student working with me, will present some of his results at GSA very soon, and Nia Watson, a geology undergrad, plans to finish her project this semester. My best to all!
Rob Hawman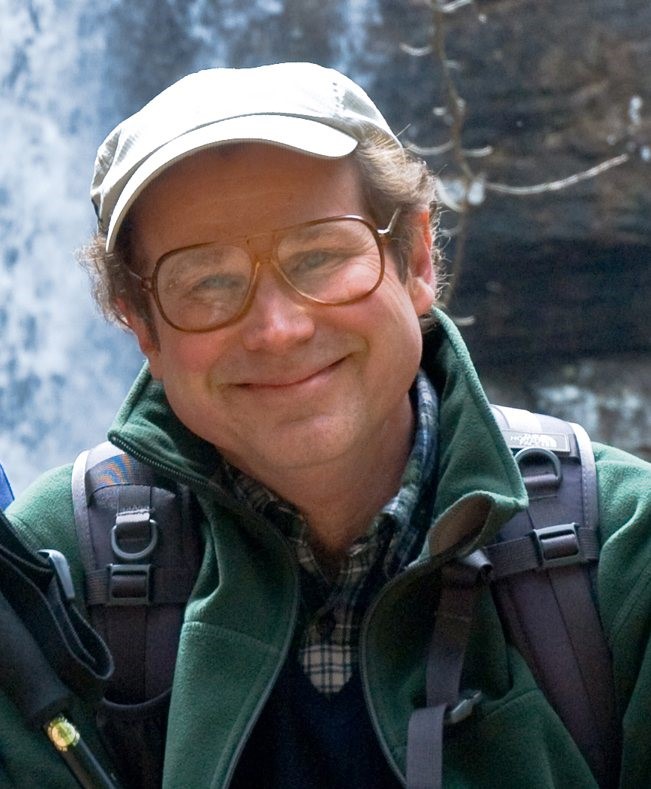 Recently, our geophysics research group has been busy working on data recorded with our NSF-funded 85-station "SESAME" southern Appalachian broadband seismic array. Over the years, I've had the good fortune to work with smart, creative graduate students.  In 2016, PhD student Horry Parker received the "Excellence in Research by Graduate Students Award in the Physical Sciences", the highest UGA award for graduate research.  He's now a geophysicist with Black & Veatch, a global engineering firm based in Charleston. Erik Alberts completed his master's thesis in May and is now a geophysicist with Exxon/Mobil, and Devon Verellen, who will defend her thesis in November, will start her position as a geophysicist with Chevron in January. Chevron has played a key role in supporting our graduate program through research assistantships in geophysics, sedimentology/stratigraphy, and structural geology. So far, the geophysics assistantships have supported Devon Verellon and new graduate student David McWhorter. Andrew Clements also started this fall, and Gustavo Larramendi will join us in January. We've also continued our education/outreach programs for students in elementary and middle school, mostly at outdoor events at the Georgia Mountain Research & Education Center in Blairsville.  Besides research and teaching, I've stayed busy playing French horn in the Athens Symphony with my better half, Barbara, and keeping up with our two grandsons.  Wishing all our alumni out there the best!
Steve Holland

Steven Holland and his graduate students have been engaged in a multi-year study of a Jurassic epicontinental seaway in western North America, known as the Sundance Seaway. This project presents an opportunity to understand an epicontinental seaway in its entirety, from its formation to its final filling with sediments, and to understand that history in terms of subsidence mechanisms, sequence stratigraphic architecture, biogeography, and community ecology. His lab has recently published papers on this project in the Journal of Sedimentary Research, Palaios, and Palaeontology, with several more in the works. This summer, Steve taught a summer field course with Mark Patzkowsky on stratigraphic paleobiology, which focuses on the application of sequence stratigraphic principles to paleobiology and biostratigraphy. The two-week course, based in the Tobacco Root Mountains and the Missouri Breaks of Montana, attracted a dozen students from around the world. This year's course focused on the stratigraphy of mass extinction.
Christian Klimczak
Updates from Christian's group, the Structural Geology and Geomechanics Laboratory:  
UGA Structural Geology and Geomechanics group is on YouTube.  
Melanie Callihan wins the Association of Women Geoscientists Sand Student Research Presentation Travel Award, 2017.
Kelsey Crane was selected as a fellow for the UGA Center for Teaching and Learning Future Faculty Fellowship Program 2017-2018, a Planetary Geology Division of the Geological Society of America Student Advisory Member 2017/2018, and was also awarded the Planetary Geology Division Travel Grant, 2017, which is the second year in a row for a student of the University of Georgia to win.
Christian Klimczak was invited as talk show guest to speak about our Solar System and the discovery of the TRAPPIST-1 planetary system on Turkish national TV in April 2017.
Adam Milewski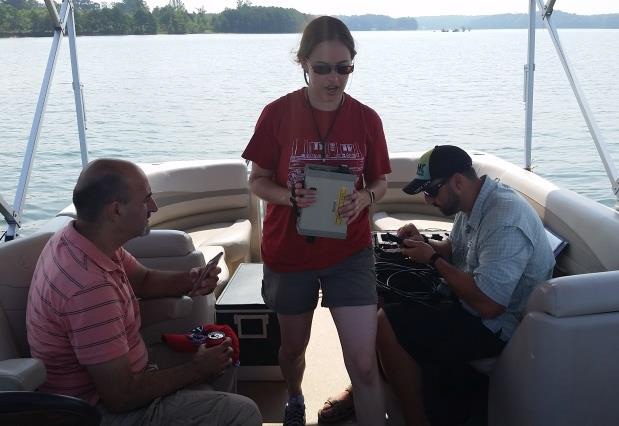 It has been an exciting year in the Water Resources and Remote Sensing Laboratory filled with fieldwork, conferences, new students and projects, and international visiting scholars. Abigail Knapp continued her research on determining the hydrologic drivers of harmful algal blooms.  Rachel Rotz has completed her physical model simulations for characterizing the formation and degradation of freshwater lens. Holly Hutcheson has been cranking away on the water resource inventories and assessments for the National Wildlife Refuges in the Southeast. Michael Durham and I went to Turkey with Paul Schroeder to build collaborations with Middle East Technical University. We followed that up with going straight to Morocco for fieldwork on ephemeral channel variability in Morocco. Matthew Thomas, University of Montana, started his master's degree this past fall.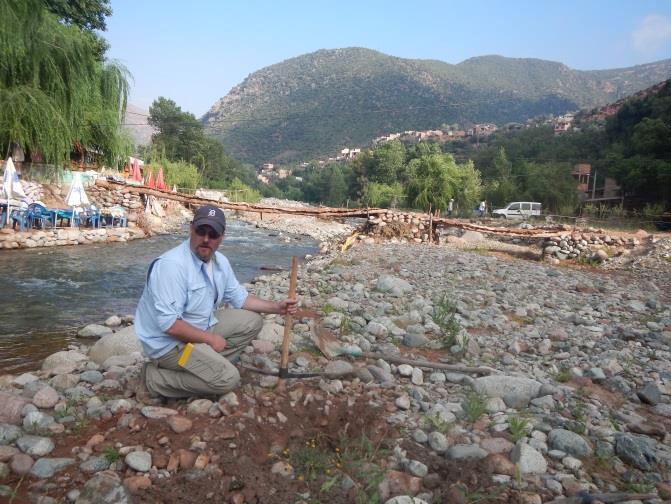 My former students and I have published a few manuscripts this past year on groundwater risk, estimates of recharge and change in the Middle East, and on downscaling groundwater anomalies. I completed my work with David Leigh (Geography Dept.) on estimating paleoflood magnitudes and determining the preservation of additional paleoflood proxies in the Tennessee River Basin. Dr. Koray Yilmaz from Turkey visited over the summer as part of the Franklin College International Scholars Program. Dr. Aicha Saad from Morocco visited as a Fulbright Scholar.
Looking forward, David Richards will enter our graduate program in January and start working on our new National Park Service project using LiDAR data to better understand hydrologic/geomorphologic change in coastal Georgia.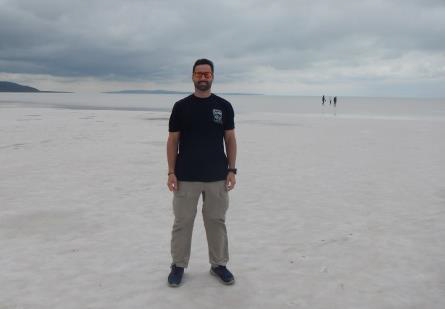 Lastly, Jennifer and I continue to be reminded about who's in charge in our house…Tessa (3 years old) and Vivian (18 months).  We were able to spend some time with family in Buffalo during the summer and even made it to Disney World.
Valentine Nzengung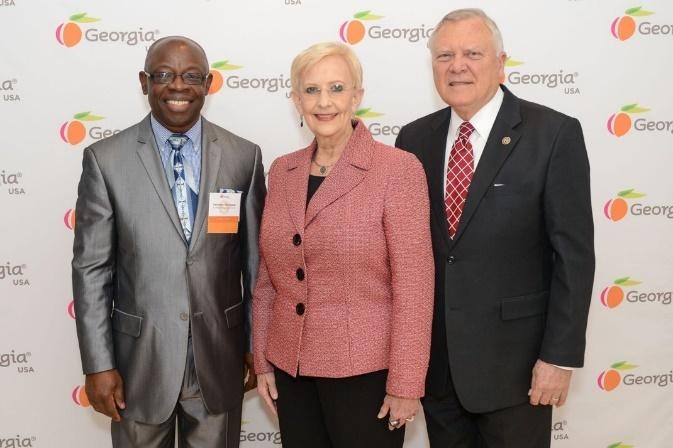 After 22 years as a faculty in UGA's Geology Department, Valentine continues to explore new areas of teaching and research. He plans to teach his recently developed course titled AgroGeology in spring 2018. AgroGeology is a relatively new interdisciplinary science, broadly defined as 'geology in the service of agriculture.'  Students enrolled in the course will acquire skills needed to remineralize nutrient depleted soils using selected geological minerals.  
Valentine's ongoing research is focused on the development of multiple environmental applications of biochar, including: (1) the removal of nutrients from Concentrated Animal Feeding Operations (CAFO) wastewater; (2) application of biochar as a general-purpose fertilizer for crop production and reforestation, and (3) remediation of mine waste. In recognition of Valentine's work on chemical neutralization of explosives, his company Munirem Environmental LLC received the Globe Award from the Georgia Department of Economic Development. At the invitation of the National Academies of Sciences Committee on Alternatives for the Demilitarization of Conventional Munitions (CMD Committee), Valentine appeared before the committee on October 23 and 24, 2017 to discuss chemical neutralization applications in demilitarization of conventional munitions.  Valentine and his undergraduate and graduate research students are looking forward to an exciting 2017/2018 academic year.    
Marta Patino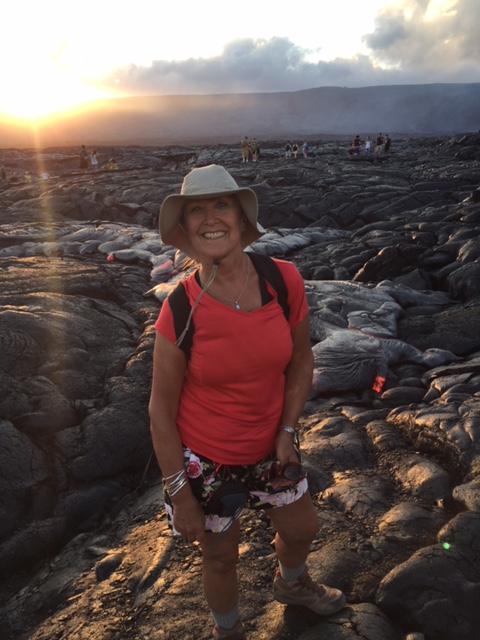 It has been a while since I wrote in the department newsletter so here is a brief summary of the latest events. My work with UGA continues to be teaching: the regular face to face classes, online with eCore and during study abroad.
In the day schedule, I still teach mostly GEOL 1121 - which entails the challenge and fun to make reluctant students realize how useful and downright interesting geology is! The same happens with my online classes through eCore. Although it is a lot of work, it feels good to make college accessible to those who are far away, even abroad, extremely busy or those whose schedules do not match the daytime college. The Outdoor Recreation and Geology Program that I started teaching in 2013 kept going strong until last year – Much to my surprise, I've become quite an expert kayaking, white-water rafting or zip-lining. (Can't say the same about surfing...) The Outdoor Recreation partnership will not continue the coming year, but we have teamed with the department of International Student Life to keep offering a program in Costa Rica that will enrich students' appreciation of geology and culture.
Last fall semester, we reintroduced the Gems and Gem Materials class, which I had not taught since I started doing study abroad during the summer. Last year we received an important gem donation through one of our alumnus (Thank you! Thank you!), and this semester those gems are in the class collections for the students to learn and enjoy.
Travels: Alberto and I returned to Iceland twice in the two past winters, hunting for the elusive Northern Lights - we'll have to keep going - no luck. On the other hand, we were really lucky in Hawaii, where for the first time we could get close to the advancing Pu'u O'o lava flow.  It was an interesting and much sought after experience for me, immortalized in the picture I share. We had visited Hawaii several other times, and we had made a number of attempts at seeing lava close and personal, but our wishes had never realized.  
I am the current president of the local Chapter of Delta Kappa Gamma Society for Women Educators. In such capacity, I am involved in a number of activities with other colleagues aimed at promoting excellence in education and providing help to local schools. Yes, I am quite busy, not a minute to spare, but I love all I do. Hope you are all well until we continue this dialogue.
Bruce Railsback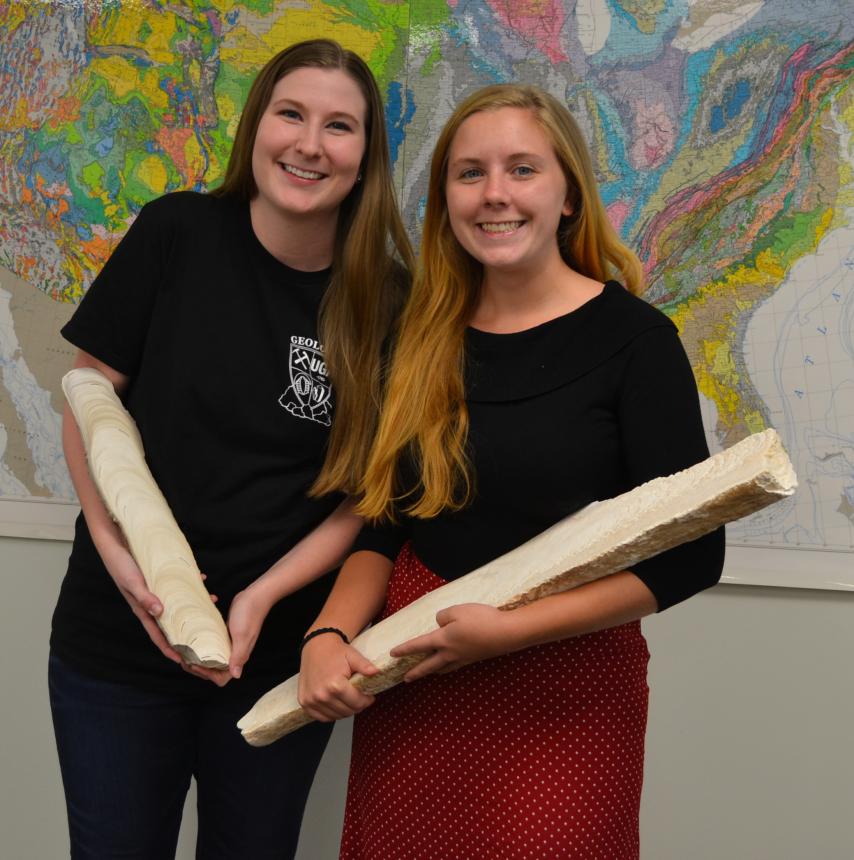 Bruce Railsback's research continues to focus on stalagmites as records of past climate change.  Doctoral student Ny Riavo Voarintsoa (Voary) finished her doctoral degree in May 2017 and has moved on to a post-doc in Israel; two papers have been published from her dissertation and more are in progress.  Meanwhile, two undergraduates, Laura Dupont and Susan Kraft, are presently working on stalagmite-based research projects in Railsback's lab.
Alumni Updates
Ny Riavo Voarintsoa (Voary)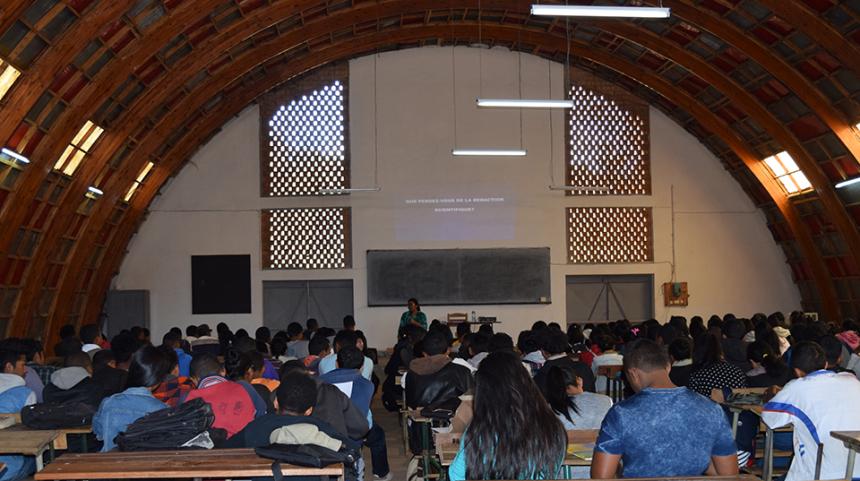 Growing up from a developing country has always been a challenge, but I am thankful to have received several supports and encouragement from many people / funding institutions who trusted my ability to succeed. I am very thankful that my dream of becoming a doctor is achieved. I earned my PhD in geology and I graduated from the University of Georgia in May 2017, with my head lifted high because I received a postdoctoral fellowship at the Fredy & Nadine Herrmann Institute of Earth Sciences of the The Hebrew University in Jerusalem to continue working in the most cutting-edge clumped isotope methodology in speleothem science.
My biggest and ambitious dream is to give back to my native country, Madagascar, using my expertise and skills. I would like to help future generations understand the importance of education and science in the development of Madagascar. In the last few years, I organized workshops/seminars at my home Department, in Antananarivo, the capital city of Madagascar. This year, the Department of Geology of the University of Antananarivo invited me to give a short workshop/lecture to approximately 150 students. In addition to the workshops, I volunteer to help women in STEM in Madagascar. I am the project manager and coordinator of scholarships, grants, and opportunities for women in STEM, called Ikala STEM (USA Chapter), in Madagascar.  It is a new non-profit organization dedicated to encourage and empower Malagasy women in STEM, grouping several advanced Malagasy STEM volunteers working and/or studying in Madagascar, South Africa, Europe, and the United States of America. Above all these, I am also mentoring and advising students from my home department.
My dedication and passion to give back to my native country and to inspire younger generations are among reasons the Schlumberger Foundation, Faculty for the Future supported my academic studies at UGA. However, I am also indebted to the Department of Geology at UGA for all the support I received during my whole academic year. The friendliness of faculty, staff, and students in the department are unforgettable. If I am asked to list places I will never forget, the Geography-Geology Building in Athens Georgia, behind the Stanford Stadium is on top of the list.
I look forward to continue using my new expertise and skills to help create opportunities for young scientists in Madagascar and to benefit Madagascar.
I wish to inspire, and thus I share.
Claire Webster
I accepted a job this past July with a geotechnical engineering firm, Ardaman and Associates, based out of Orlando, FL. The job is keeping me very busy, and I am already missing academia. I have continued doing research with Dr. Walker after graduation, and I just presented that work at GSA in October. I plan on applying to graduate schools again this fall.