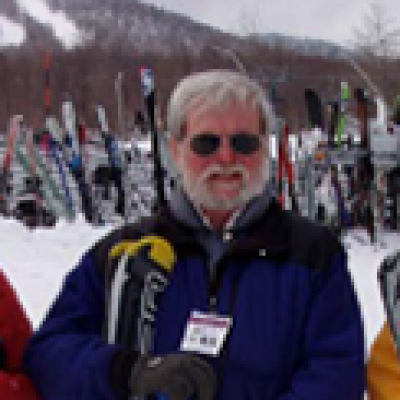 Igneous Petrology
Professor
Contact
mroden@uga.edu
Office:
Geography-Geology Building, Room hydrolab
Current Research Interests
I am primarily interested in understanding how the earth and the planets have become chemically differentiated over time into crusts, mantle and core.   My current work involves studying mantle lithosphere in the form of xenoliths brought to the surface by explosive volcanoes.  These xenoliths are samples of mantle lithosphere ranging in age from Archean (>2500 million years old) to Recent, and in principle can yield information on the mechanisms responsible for earth differentiation as a function of time.  More recently I've become interested in planetary geology including the origin of impact glasses ("georgiaites") found in east-central Georgia, and in the implications of apatite compositions for the fugacities of water, chlorine and fluorine in planetary interiors.
Education:
A.B., Hamilton College
M.A., University of Texas at Austin
Ph.D., MIT, 1982 
Research Interests:
Current projects:
Phosphate equilibria in planetary and terrestrial basalts (with Alberto Patino-Douce)
Chemical evolution of the upper mantle, western U.S.A.   
Petrogenesis of leucite basalts and lamprophyres, northern Turkey
Petrogenesis of minettes & camptonites, Spanish Peaks, CO  
Current Research
Ever since finding spinel lherzolite xenoliths at Buell Park while working on a master's thesis under Doug Smith, I've been fascinated with these samples of the upper mantle. In many ways xenoliths are like meteorites in that the samples are intriguing but the context is lacking. Consequently it is not surprising that in collaboration with my colleague Alberto Patino-Douce my attention has turned to meteorites. Together we are looking at phosphate relations in meteorites (with undergraduate S. Cox) to try to understand how merrillite and apatite coprecipitate and what this means for the relative fugacities of H2O, F and Cl (see for example Patino Douce and Roden, 2006). I still continue to work on xenoliths (for example, Roden et al., 2006, and the image below), but my focus has certainly shifted from just upper mantle xenoliths.
One intriguing project was initiated in summer (2007) with Alberto Patino Douce and involves looking at recent volcanism in the high Puna plateau east of the Andes in northern Argentina. This plateau is a fascinating, remote area with exotic wildlife and spectacular exposures of young volcanic structures. Magmatic compositions range from basaltic to rhyolitic including large, well-exposed calderas. My students are currently working on a variety of projects inferring magmatic histories from chill zones of diabase dikes in the southeast (S. Clark), field, mineralogic and geochemical studies of an apparent ophiolite complex in the Piedmont (J. Chaumba), and studying magmatic evolution of dikes associated with Spanish Peaks (H. McGregor).
Current Projects:
hosphate equilibria in planetary and terrestrial basalts (with Alberto Patino-Douce)
Chemical evolution of the upper mantle, western U.S.A.   
Petrogenesis of leucite basalts and lamprophyres, northern Turkey
Petrogenesis of minettes & camptonites, Spanish Peaks, CO        
Selected Publications:
Recent Publications (2004-2014)
Harris, R.S., M.F. Roden, P.A. Schroeder, S.M. Holland, M.S. Duncan, & E.F. Albin, 2004, Upper Eocene                                impact horizon in east-central Georgia, Geology, 32: 717-720.
Dallmeyer, R.D., Roden, M.F., Swanson, S., 2005, Geologic overview of the Elberton, GA area,     in Roden, M., Schroeder, P., Swanson, S. (eds.), Geologic Investigations of Elberton Granite and Surrounding Rocks, GA Geol. Soc. Guidebook 25, 1-16.
Dvoracek, D. Roden, M.F., 2005, The Danburg (GA) granite, Carolina Terrane: An Alleghanian     pluton showing evidence for mixing with a relatively alkaline magma, in Roden, M., Schroeder, P., Swanson, S. (eds.), Geologic Investigations of Elberton Granite and Surrounding Rocks, GA Geol. Soc. Guidebook 25, 81-95.
Roden M.F., Albin, E.A., 2005, Georgiaites, The New Georgia Encyclopedia                 http://www.georgiaencyclopedia.org/nge/Home.jsp
Roden, M.F., Schroeder, P., Swanson, S., (eds.), 2005, Geologic Investigations of Elberton Granite and Surrounding Rocks, GA Geological Society Guidebook 25, 120 pp.
Patino-Douce, A., Roden, M. ,2006, Apatite as a probe of halogen and water fugacities in the terrestrial planets, Geochim. Cosmochim. Acta 70: 3173-3196
Roden, M.F., Patino-Douce, A., Jagoutz, E., Laz'ko, E., 2006, High pressure petrogenesis of Mg-rich garnet pyroxenites from Mir kimberlite, Siberia, Lithos 90: 77-91
Shepherd, M., Mote, T., Dowd, J., Roden, M., Knox, P., McCutcheon, S., Nelson, S. 2011, An overview of synoptic and mesoscale factors contributing to the disastrous Atlanta flood of 2009; Bull Am Meteorological Soc 92: 861-870.
Patino-Douce, A.E., Roden, M.F., Chaumba, J., Fleisher, C., Yogodzinski, G., 2011, Variations in halogen and water contents in the mantles of Earth and Mars revealed by apatite compositions, Chemical Geology 288: 14-31, doi:10.1016/j.chemgeo.2011.05.018
Chaumba, J., Roden, M.F., 2012, Petrogenesis of gabbroic cumulates and intrusives of the Carolina superterrane in Georgia, southern Appalachians, SE Geology 49: 49-97.
Ozdamar, S., Roden, M.F., Esenli, F., Uz, B., Wampler, J.M., 2012, Geochemical features and     K-Ar age data from metadetrital rocks and high-K metasomatized metarhyolites in the Afyon-Bolkardag Zone (Ilgin-Konya, SW Turkey, N. Jb. Miner. Abh. 189/2: 155-176.
Semiz, Baris, Çoban, H., Roden, M.F., Özpinar, Y, Flower, M.F.J., McGregor, H. 2012, Mineral     compositions in cognate inclusions in Upper Miocene potassic lavas from the Denizli region, western Anatolia, Turkey: Petrological implications for uppermost mantle processes, Lithos 134-135: 253-272
Ozdarmar, S., Billor, M.Z., Sunal, G., Esenli, F., Roden, M.F., 2013, First U-Pb SHRIMP zircon and 40Ar/39Ar ages of metarhyolites from the Afyon-Bolkardag Zone, SW Turkey: Implications for the rifting and closure of the Neo-Tethys, Gondwana Res.24:     377-91
Sarafian, A.R., Roden, M.F., Patiño Douce, A.E., 2013, The volatile content of Vesta: Clues from apatite in eucrites, Meteoritics & Planetary Science 48: 2135-2154
Roden, M.F., 2013, Review of "Roadside Geology of Georgia" by Pamela J.W. Gore & William     Witherspoon, Ga J Sci 71: 173.
Chaumba, J.B., Roden, M.F., submitted, Amphibole, olivine, pyroxene, plagioclase, and spinel mineral compositions from the Russell Lake Allocthon, southern Appalachians, Am Mineral